Alps TexTouch Graphite Trigger Reel Seat by Batson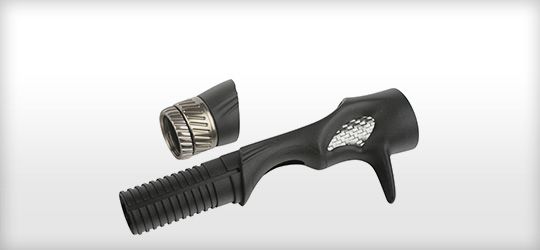 Alps TexTouch Graphite Trigger Reel Seat by Batson
Introduced in 2013, the ALPS TexTouch graphite trigger casting reel seat has proven itself to be a hot product and a must buy for anglers looking for a durable seat with a high tech appearance. The trend setting TexTouch casting graphite reel seat, another first from ALPS, highlights some of the best features. CNC machined 6061-T6 double locking nuts and a double keyed body hold that reel in place and eliminate hood spin. The one and only TexTouch sets the bar with three cutouts for maximum blank exposure. The ALPS TexTouch graphite trigger reel seat combines sensitivity, strength, and light weight perfect for any angler seeking the best components. ALPS went one step further and included a texalium woven insert to give it a classy touch. Choose between 4 different hood combinations for the ultimate custom feel. The soft touch coating was introduced in 2017 for even more comfort.
Soft Touch are available in size 16 only.

Sizes 8.5-13.5 only available with texalium woven inserts.

Sizes 14-15 comes texalium tape
Suggested trim ring all other sizes: TRC
Size 16 TexTouch Reel Seat

PART #

LENGTH (MM)

LENGTH (IN)

ID (MM)

ID (IN

)

TX16-IS-08.5
121.05
4.7655
8.50
0.335
TX16-IS-09.0
121.05
4.7655
9.00
0.354
TX16-IS-09.5
121.05
4.7655
9.50
0.374
TX16-IS-10.0
121.05
4.7655
10.00
0.394
TX16-IS-10.5
121.05
4.7655
10.50
0.413
TX16-IS-11.0
121.05
4.7655
11.00
0.433
TX16-IS-11.5
121.05
4.7655
11.50
0.453
TX16-IS-12.0
121.05
4.7655
12.00
0.472
TX16-IS-12.5
121.05
4.7655
12.50
0.492
TX16-IS-13.0
121.05
4.7655
13.00
0.512
TX16-IS-13.5
121.05
4.7655
13.50
0.531
TX16-14.0
121.05
4.7655
14.00
0.551
TX16-14.5

121.05
4.7655
14.50
0.570
TX16-15.0
121.05
4.7655
15.00
0.591
TX16-DN(HOOD)
33.750
4.7655
17.50
0.69